Historia zapachu
Ekstrakty
Składniki
GREEN to soczysty ładunek kreatywności, otulająca zieleń łąki i pełen energii uścisk przyjaciół.
Poznaj ten zapach lepiej – przewiń stronę w dół i sprawdź, jaką opowiada historię!
W tej odpowiedniej dla wegan, zrównoważonej kompozycji o niezwykle prostym składzie odnajdziesz naturalne ekstrakty między innymi:
Bazylia typu Estragol z Wietnamu
Cyprys z Hiszpanii
Żywica benzoesowa z Laosu
Alcohol Denat., Aqua, Parfum, Limonense, Citronellol, geraniol, Citral, Linalool.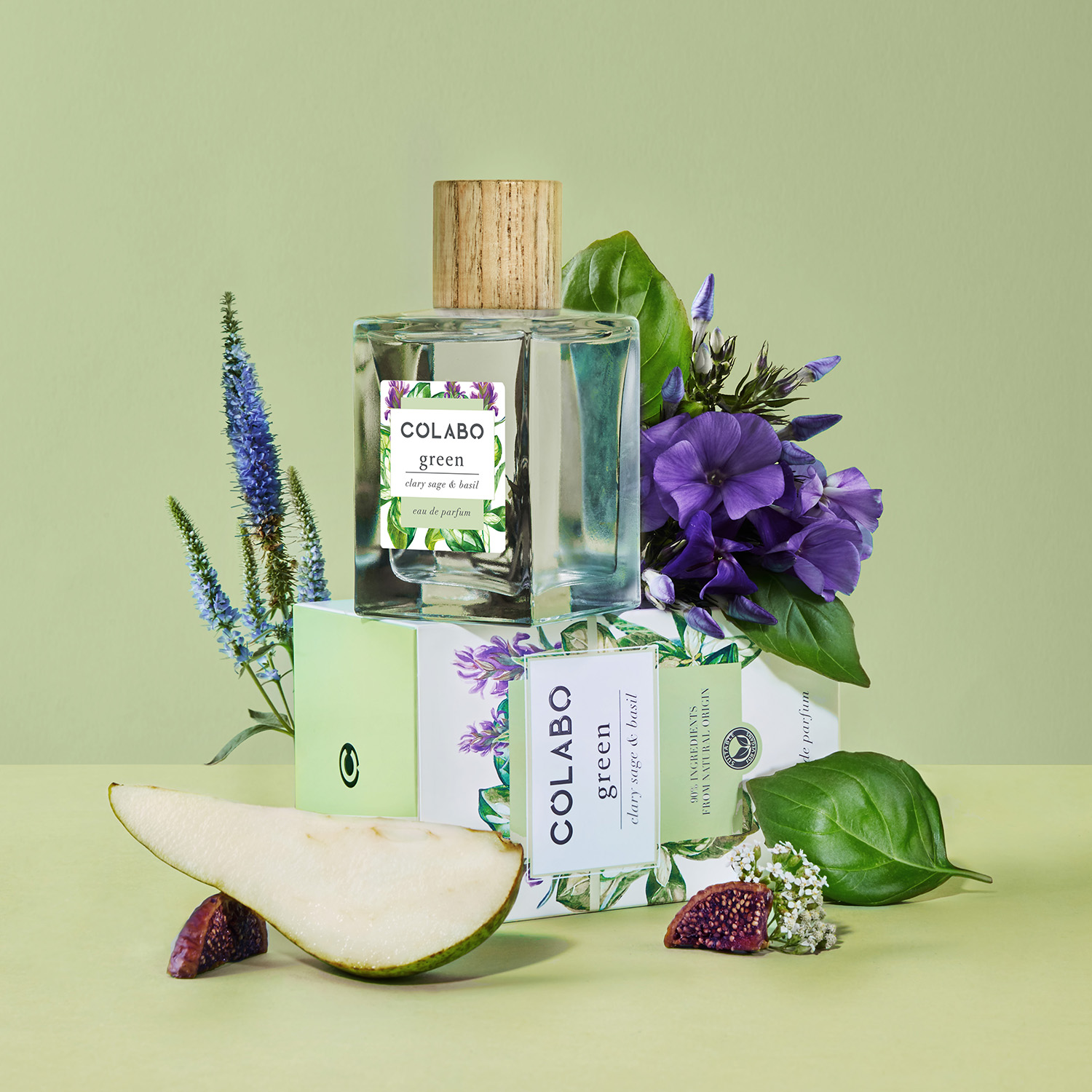 green
clary sage & basil
Zapach łąki w pełnym kwitnieniu połączony z orzeźwiającą siłą pełnych charakteru, ziołowych aromatów.
To wyobrażenie chwili, gdy zanurzony w zieleni łąk, wyczuwasz zapachy wczesnej wiosny.
Ta wyjątkowa kreacja z szałwii muszkatołowej i bazylii zabierze Cię w botaniczną podróż po całym świecie.
Otwórz swój umysł i pozwól się otulić naturze.
Każdy z nas tworzy własną historię. Czas na Ciebie!
Poznaj wszystkie emocje i historie zapachowych
podróży COLABO NATURE
zmieniaj świat
– zróbmy to razem
We wszystkim, co robimy, przyświeca nam myśl o naturze jako źródle – życia i inspiracji. Odpowiedzialnością nas wszystkich jest dbać o nią – dla przyszłych pokoleń i nas samych. COLABO to świadomie obrany kierunek na piękno i naturę.
Zapachy COLABO to produkty zrównoważone:

CERTYFIKACJA WEGAŃSKA

PRZYJAZNE ZWIERZĘTOM

DO 94% SKŁADNIKÓW POCHODZENIA NATURALNEGO

DO RECYKLINGU

PRZYJAZNE ŚRODOWISKU

MNIEJ ODPADÓW

PROSTY SKŁAD

BEZ SYNTETYCZNYCH BARWNIKÓW