Historia zapachu
AROMAT
Składniki
Zapach słońca w sprayu.
Zamknij oczy i poczuj to na skórze: ciepło, radość, siła optymizmu.
To rozkoszne chwile w podróży, odpoczynek wśród łąk i kobieca beztroska z akcentem egzotycznych kwiatów oraz słodkich nut pełnych subtelności.
WARM MEADOW – ciepło na skórze i w sercu.
Poznaj ten produkt lepiej – przewiń stronę w dół i sprawdź, dlaczego stworzyliśmy go dla Ciebie!
W tej wegańskiej mgiełce wzbogaconej o prowitaminę B5 dla Twojej skóry (D-pantenol) odnajdziesz ideę zrównoważonego rozwoju oraz inspirujący zapach WARM MEADOW:
W kompozycji odnajdziesz między innymi: amyris, ylang ylang. fasolę tonka i rum
Rodzina zapachowa: kwiatowo – gourmand
Wyczuwalny charakter: bardzo słoneczny, zapach aromatycznych kwiatów, słodka fasola tonka i akord rumu przywołują skojarzenie wanilii
Aqua, Alcohol Denat., Parfum,  Glycerin, Panthenol, Citric Acid, Citronellol, Geraniol, Benzyl Salicylate, Benzyl Benzoate, Farnesol, Citral, Limonene, Linalool, Coumarin, Eugenol, Isoeugenol.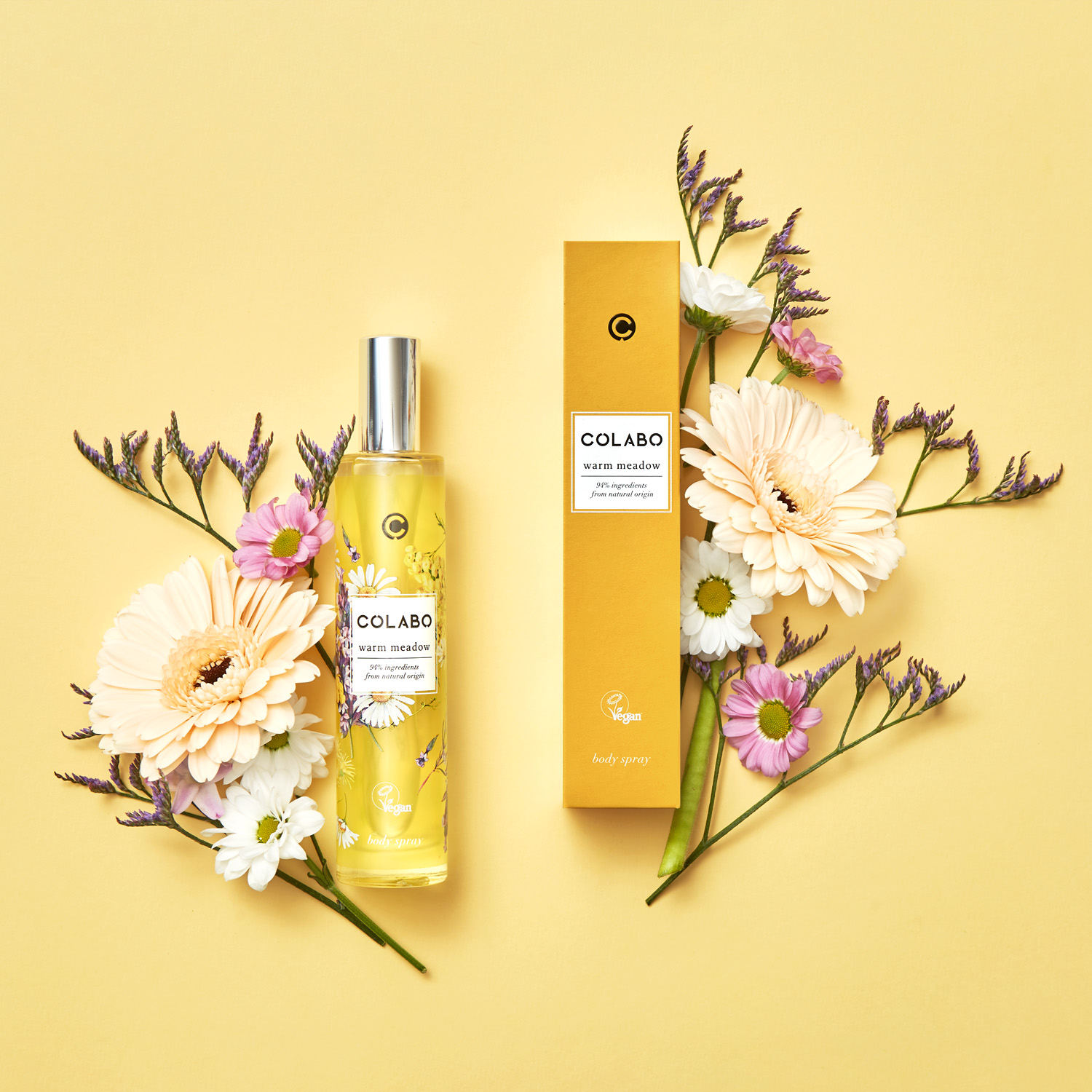 warm meadow
Poznaj kolekcję COLABO Body Spray i odkryj tworzące ją produkty:
– Inspirowane naturą zapachy w formie mgiełki / sprayu do ciała
– Doskonałe uzupełnienie zapachowego rytuału lub alternatywny główny nośnik zapachu do zadań specjalnych: np. podczas intensywnej aktywności fizycznej i/lub w wysokich temperaturach
– Delikatna formuła na bazie wody – zawartość alkoholu zmniejszona do minimum niezbędnego dla utrzymania długotrwałego zapachu
– Wersja compact – wygodne odświeżenie w podróży i w ciągu dnia, butelka 50 ml idealna do torebki czy plecaka – blisko zawsze, gdy potrzebujesz odrobiny zapachowej inspiracji
Poznaj wszystkie emocje i historie zapachowych
podróży COLABO NATURE
zmieniaj świat
– zróbmy to razem
We wszystkim, co robimy, przyświeca nam myśl o naturze jako źródle – życia i inspiracji. Odpowiedzialnością nas wszystkich jest dbać o nią – dla przyszłych pokoleń i nas samych. COLABO to świadomie obrany kierunek na piękno i naturę.
Zapachy COLABO to produkty zrównoważone:

CERTYFIKACJA WEGAŃSKA

PRZYJAZNE ZWIERZĘTOM

DO 94% SKŁADNIKÓW POCHODZENIA NATURALNEGO

DO RECYKLINGU

PRZYJAZNE ŚRODOWISKU

MNIEJ ODPADÓW

PROSTY SKŁAD

BEZ SYNTETYCZNYCH BARWNIKÓW