Historia zapachu
AROMAT
Składniki
Spray do ciała o zapachu spokoju – zielonego, pełnego roślinnej głębi i orzeźwiającej siły ziół.
Słodkie wcielenie mięty ożywione eukaliptusem, lawendą i pieprzem rozkwita w bukiecie kwiatowej bieli z nutą cytrusów.
Koi zmysły, budzi ciało – MORNING BREEZE. Rozpocznij swój wspaniały dzień!
Poznaj go lepiej – przewiń stronę w dół i sprawdź, dlaczego stworzyliśmy ten produkt dla Ciebie!
W tej wegańskiej mgiełce wzbogaconej o prowitaminę B5 dla Twojej skóry (D-pantenol) odnajdziesz ideę zrównoważonego rozwoju oraz inspirujący zapach MORNING BREEZE:
W kompozycji odnajdziesz między innymi: bergamotkę, lavandin, czarny pieprz
Rodzina zapachowa: aromatyczno-kwiatowa
Wyczuwalny charakter: odświeżające nuty głowy, kojący zapach kwiatów, przyjemnie chłodny, akordy wodne
Aqua, Alcohol Denat., Parfum, Glycerin, Panthenol, Citric Acid, Benzyl Benzoate, Citral, Citronellol, Farnesol, Geraniol, Limonene, Linalool, Alpha-Isomethyl Ionone.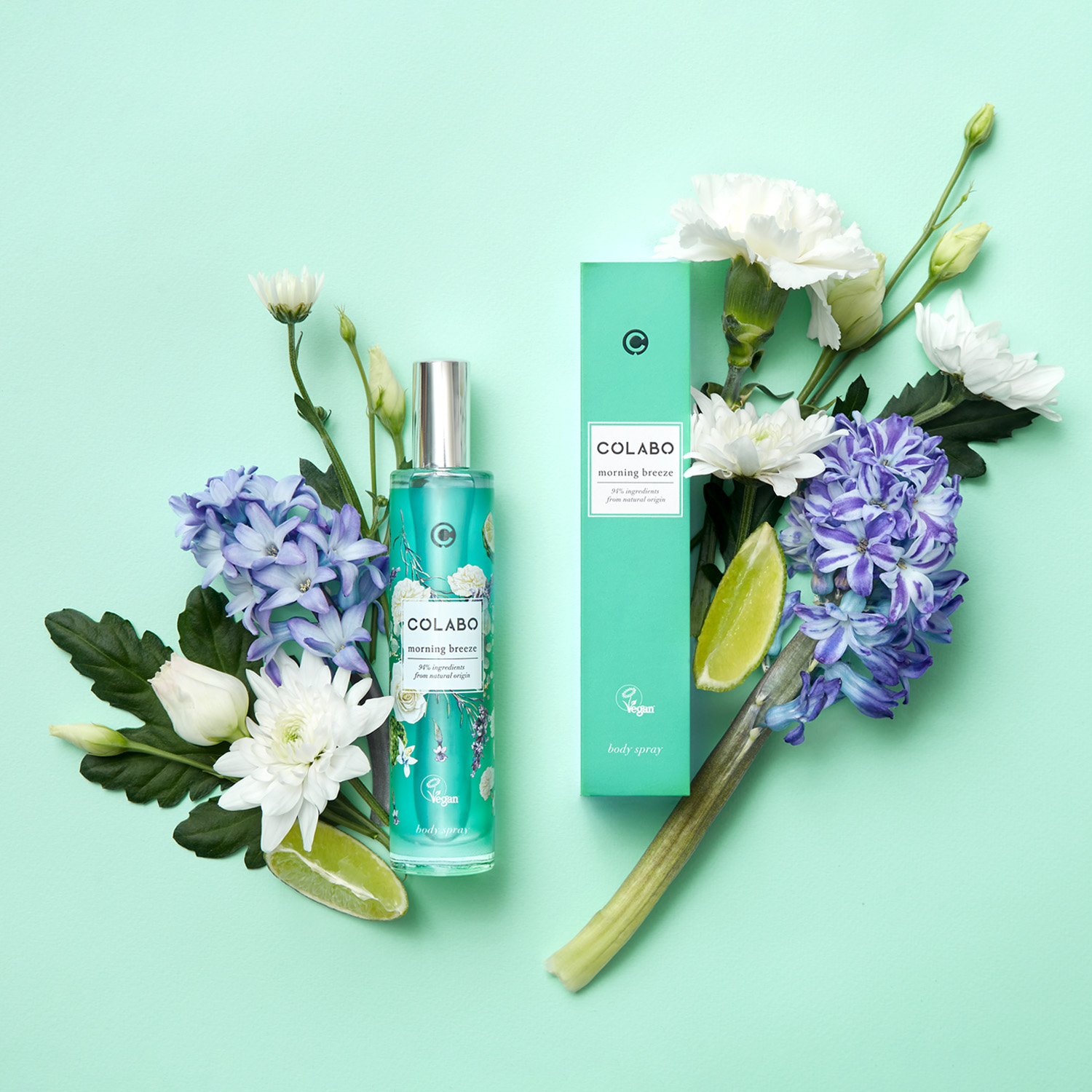 morning breeze
Poznaj kolekcję COLABO Body Spray i odkryj tworzące ją produkty:
– Inspirowane naturą zapachy w formie mgiełki / sprayu do ciała
– Doskonałe uzupełnienie zapachowego rytuału lub alternatywny główny nośnik zapachu do zadań specjalnych: np. podczas intensywnej aktywności fizycznej i/lub w wysokich temperaturach
– Delikatna formuła na bazie wody – zawartość alkoholu zmniejszona do minimum niezbędnego dla utrzymania długotrwałego zapachu
– Wersja compact – wygodne odświeżenie w podróży i w ciągu dnia, butelka 50 ml idealna do torebki czy plecaka – blisko zawsze, gdy potrzebujesz odrobiny zapachowej inspiracji
Poznaj wszystkie emocje i historie zapachowych
podróży COLABO NATURE
zmieniaj świat
– zróbmy to razem
We wszystkim, co robimy, przyświeca nam myśl o naturze jako źródle – życia i inspiracji. Odpowiedzialnością nas wszystkich jest dbać o nią – dla przyszłych pokoleń i nas samych. COLABO to świadomie obrany kierunek na piękno i naturę.
Zapachy COLABO to produkty zrównoważone:

CERTYFIKACJA WEGAŃSKA

PRZYJAZNE ZWIERZĘTOM

DO 94% SKŁADNIKÓW POCHODZENIA NATURALNEGO

DO RECYKLINGU

PRZYJAZNE ŚRODOWISKU

MNIEJ ODPADÓW

PROSTY SKŁAD

BEZ SYNTETYCZNYCH BARWNIKÓW