FRAGRANCE STORY
AROMA
INGREDIENTS
The smell of a sunshine in a mist. Close your eyes and feel it on your skin: the warmth, happiness and power of optimism. Can you imagine yourself in the delightful moments of travelling through dreamy meadows? You will recognise the carefree and feminine accents of exotic florals and sweet notes of WARM MEADOW. Let it charm you entirely.
Get to know this product better – scroll down the page and see why we created it for you!
A vegan body spray enriched with provitamin B5 for your skin (D-panthenol) you will explore the idea of sustainable development and the inspiring fragrance WARM MEADOW:
In this composition you will find natural extracts like: amyris, ylang ylang, tonka bean
Fragrance family: floral gourmand
Scent interpretation: very sunny, the scent of aromatic flowers, sweet tonka bean and rum accord create a vanilla aroma
Aqua, Alcohol Denat., Parfum, Glycerin, Panthenol, Citric Acid, Citronellol, Geraniol, Benzyl Salicylate, Benzyl Benzoate, Farnesol, Citral, Limonene, Linalool, Coumarin, Eugenol, Isoeugenol.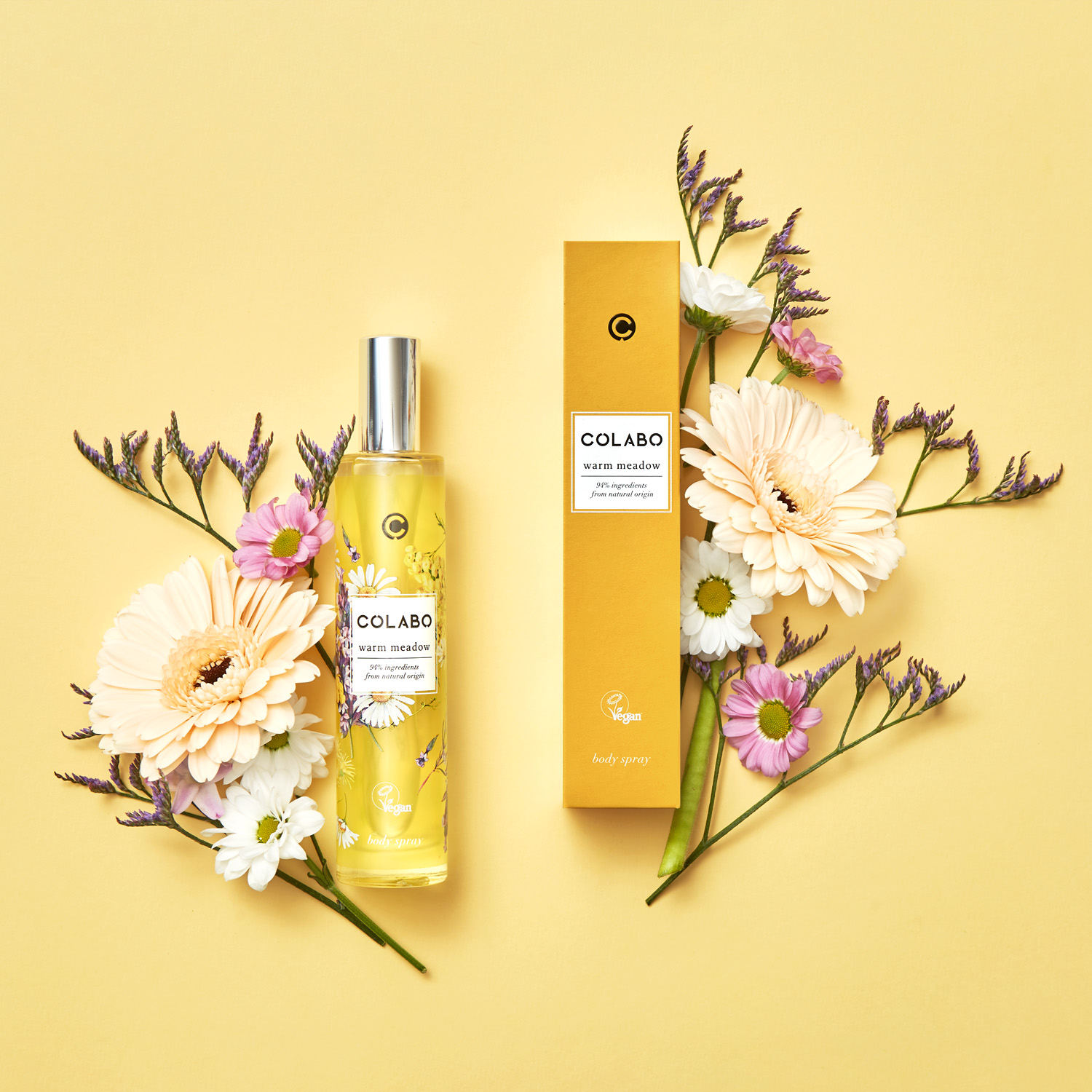 warm meadow
Explore the COLABO Body Spray collection and discover our products:
– Nature-inspired fragrances in the form of mist / body spray
– Perfect addition to the scent ritual or alternative main fragrance for special tasks: e.g. during intense physical activity and / or at high temperatures
– A delicate formula based on water – the alcohol content is reduced to the minimum necessary to maintain a long-lasting fragrance
– Compact version – convenient refreshment on the go and during the day, a 50 ml bottle size for a purse or backpack – always available when you need a bit of a fragrance inspiration
Discover all the emotions and stories of
COLABO NATURE fragrances
let's change
the world together
Everything we do is based on the principle that nature is a source of life and inspiration. Our responsibility is to take care of it – now and for future generations. COLABO is a conscious choice. Beauty from and for nature.
Our products are sustainable, here we explain what it really means for COLABO:

VEGAN TRADEMARK CERTIFIED

CRUELTY-FREE

UP TO 94% NATURAL ORIGIN

RECYCLABLE

ECO-CONSCIOUS

LESS WASTE

CLEAN FORMULA

NO SYNTHETIC COLOURS