FRAGRANCE STORY
AROMA
INGREDIENTS
A body spray that smells like all the magical moments you spent in a beautiful garden, enchanted by the beauty and calmness of flowers. It's a spring fresh, romantic aroma created with unforgettable sweetness of pink petals and light citrus notes. Your moment to dream – FLOWER HOUR.
Get to know this product better – scroll down the page and see why we created it for you!
A vegan body spray enriched with provitamin B5 for your skin (D-panthenol) you will explore the idea of sustainable development and the inspiring fragrance FLOWER HOUR:
In this composition you will find natural extracts like: cedarwood, lemon, bergamot
Fragrance family: floral
Scent interpretation: delicate petals of peonies, pink and white flowers, a musky base
Aqua, Alcohol Denat., Parfum, Glycerin, Panthenol, Citric Acid, Methyl 2-Octynoate, Citral, Citronellol, Geraniol, Limonene, Linalool.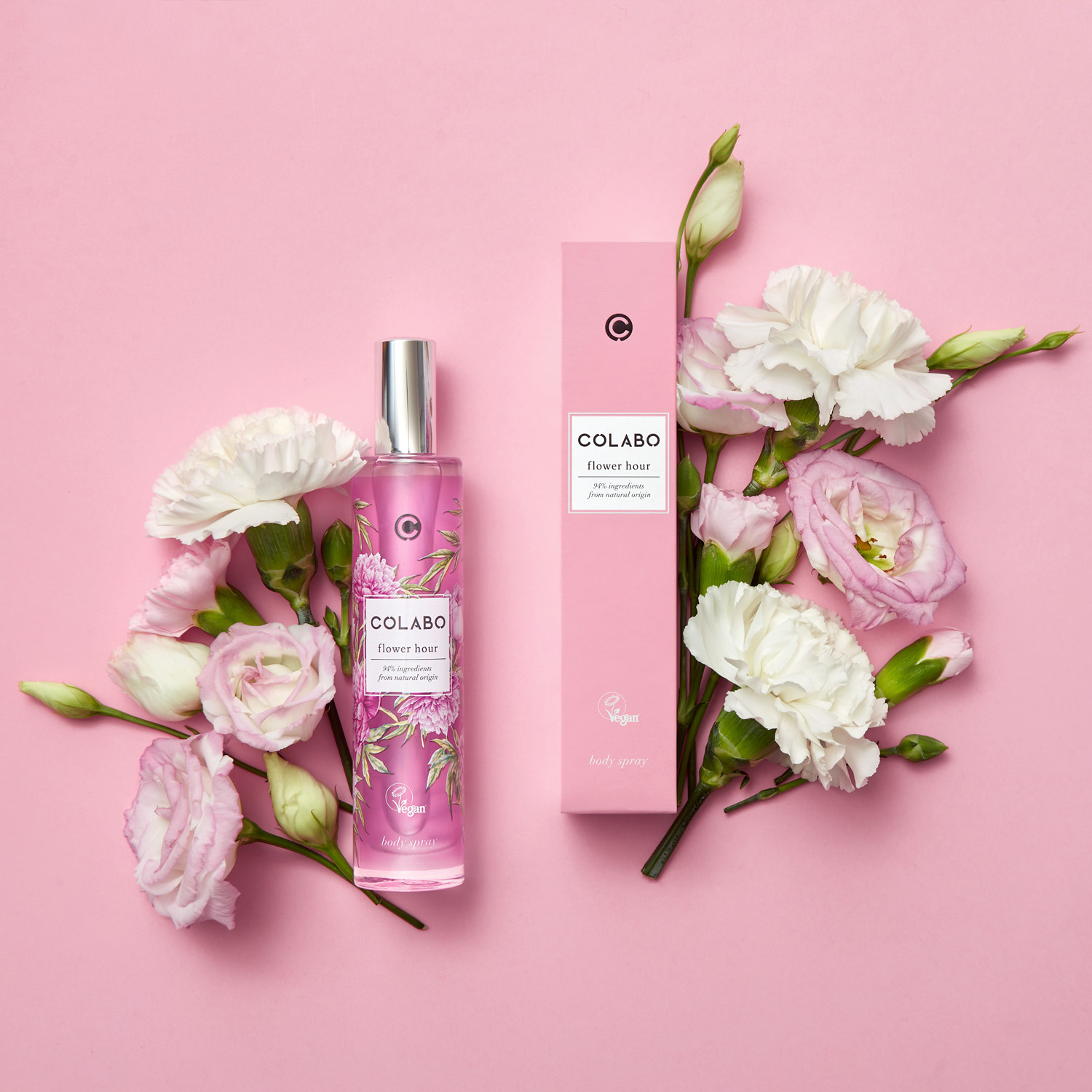 flower hour
Explore the COLABO Body Spray collection and discover our products:
– Nature-inspired fragrances in the form of mist / body spray
– Perfect addition to the scent ritual or alternative main fragrance for special tasks: e.g. during intense physical activity and / or at high temperatures
– A delicate formula based on water – the alcohol content is reduced to the minimum necessary to maintain a long-lasting fragrance
– Compact version – convenient refreshment on the go and during the day, a 50 ml bottle size for a purse or backpack – always available when you need a bit of a fragrance inspiration
Discover all the emotions and stories of
COLABO NATURE fragrances
let's change
the world together
Everything we do is based on the principle that nature is a source of life and inspiration. Our responsibility is to take care of it – now and for future generations. COLABO is a conscious choice. Beauty from and for nature.
Our products are sustainable, here we explain what it really means for COLABO:

VEGAN TRADEMARK CERTIFIED

CRUELTY-FREE

UP TO 94% NATURAL ORIGIN

RECYCLABLE

ECO-CONSCIOUS

LESS WASTE

CLEAN FORMULA

NO SYNTHETIC COLOURS