FRAGRANCE STORY
AROMA
INGREDIENTS
The power of a tropical energy in the most juicy body spray. It's a fragrant nectar that brings you back to your holiday moments, all the spontaneous adventures you will never forget. Feel the fruity wave and the echo of a joyful laughs. Is that your voice? TROPICAL NECTAR – turn on your good mood!
Get to know this product better – scroll down the page and see why we created it for you!
A vegan body spray enriched with provitamin B5 for your skin (D-panthenol) you will explore the idea of sustainable development and the inspiring fragrance TROPICAL NECTAR:
In this composition you will find natural extracts like: sweet orange, mandarin and lemon
Fragrance family: fruity
Scent interpretation: the exotic sweetness of warm fruits in top notes, juiciness of a summer cocktail and tropical burst of energy
Aqua, Alcohol Denat., Parfum, Glycerin, Panthenol, Citric Acid,Benzyl Alcohol, Citral, Citronellol, Geraniol, Hexyl Cinnamal, Limonene.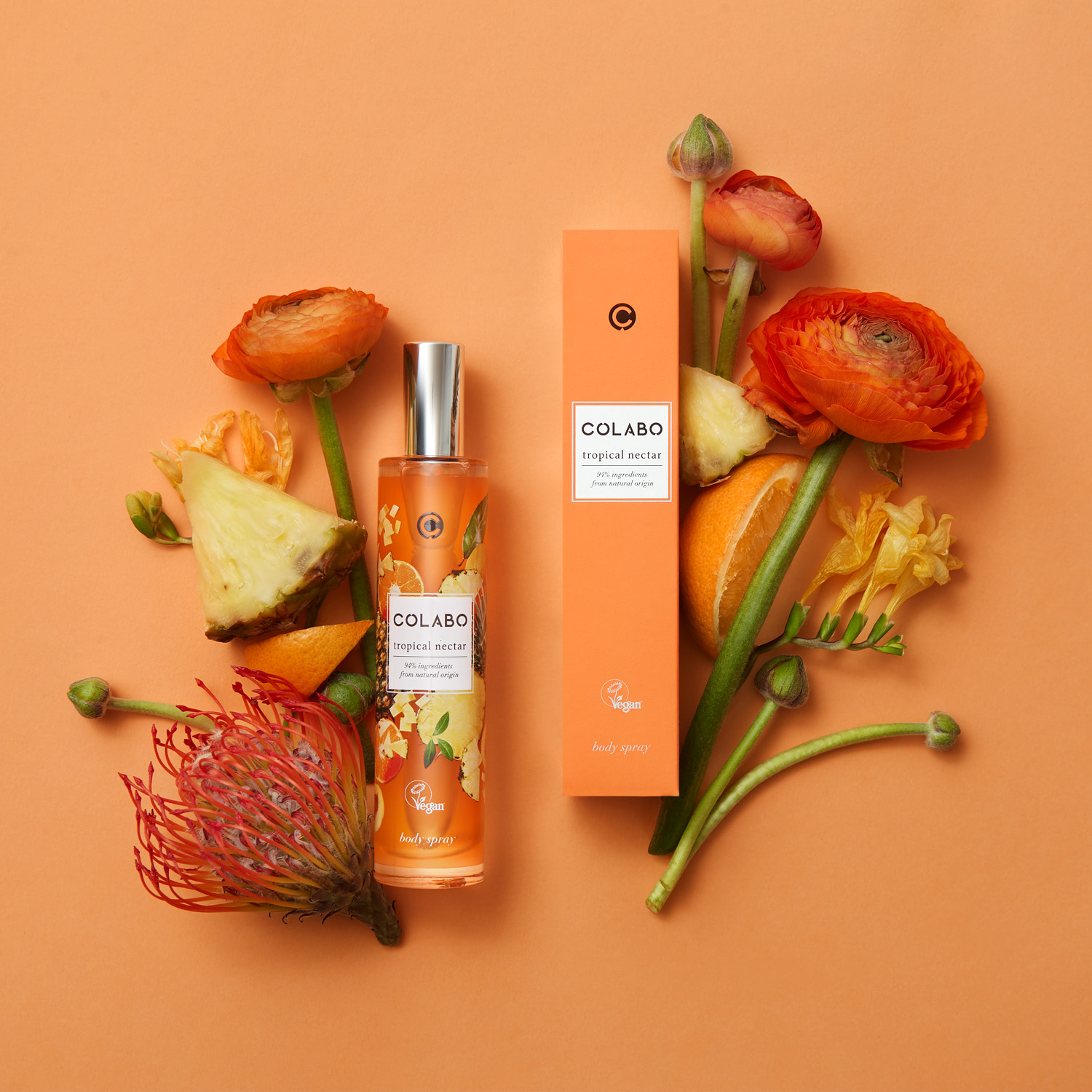 tropical nectar
Explore the COLABO Body Spray collection and discover our products:
– Nature-inspired fragrances in the form of mist / body spray
– Perfect addition to the scent ritual or alternative main fragrance for special tasks: e.g. during intense physical activity and / or at high temperatures
– A delicate formula based on water – the alcohol content is reduced to the minimum necessary to maintain a long-lasting fragrance
– Compact version – convenient refreshment on the go and during the day, a 50 ml bottle size for a purse or backpack – always available when you need a bit of a fragrance inspiration
Discover all the emotions and stories of
COLABO NATURE fragrances
let's change
the world together
Everything we do is based on the principle that nature is a source of life and inspiration. Our responsibility is to take care of it – now and for future generations. COLABO is a conscious choice. Beauty from and for nature.
Our products are sustainable, here we explain what it really means for COLABO:

VEGAN TRADEMARK CERTIFIED

CRUELTY-FREE

UP TO 94% NATURAL ORIGIN

RECYCLABLE

ECO-CONSCIOUS

LESS WASTE

CLEAN FORMULA

NO SYNTHETIC COLOURS